Today I am giving a closer look into the sweetest gray and white playroom for the two sweetest little boys!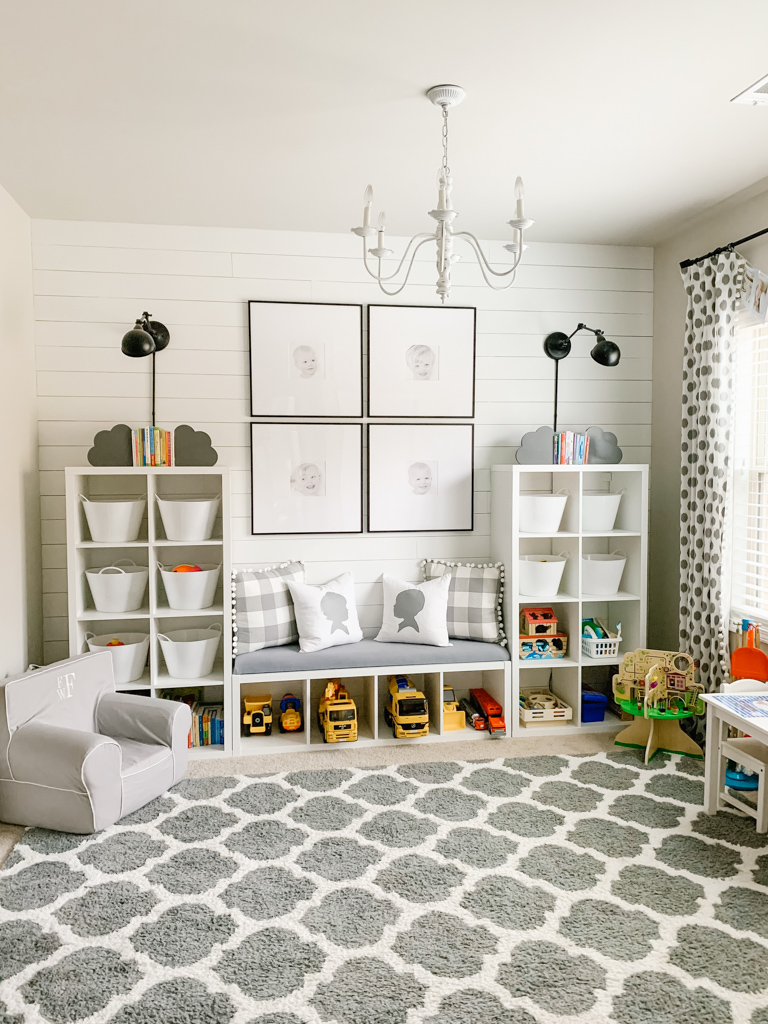 Playroom: The Before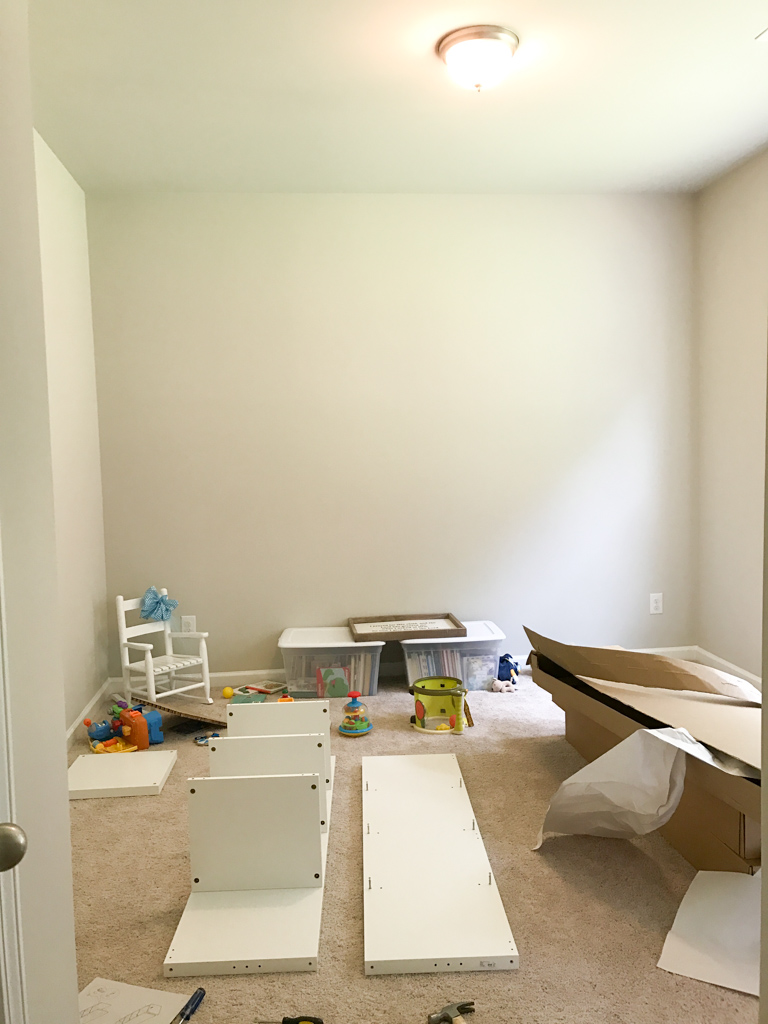 Here is a look at what the playroom looked like when we moved in. A sad builder-grade blank box with absolutely no character! But all I saw with this blank slate was endless potential! 🙂
The playroom was actually an extra bedroom on the main floor and was right off the kitchen. It was so convenient having a playroom on the main floor. I could be in the kitchen cooking dinner while still keeping an eye on the boys while they played!
Since the playroom was so visible from our main living space I wanted it to be pleasing to the eye while still being functional! A fun, youthful, vibrant space where the boys could play and be children!
And I think we accomplished just that! It ended up being one of my very favorite rooms and by far the most used room in our house. The boys spent hours playing in here every single day.
Gray and White Playroom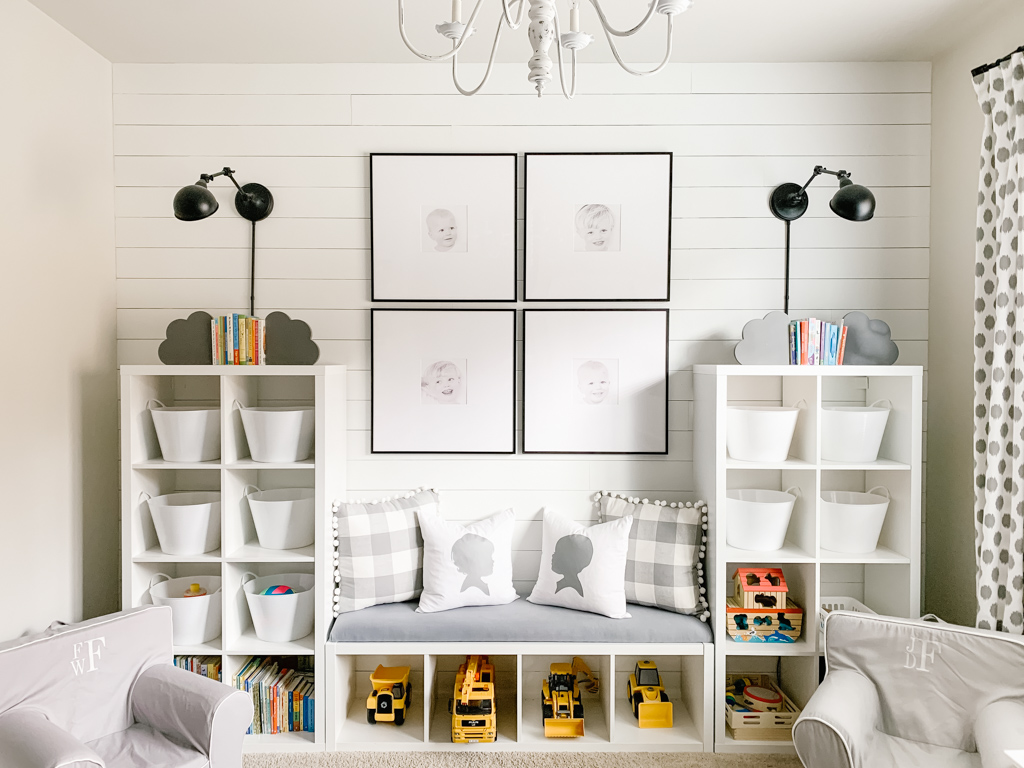 I added DIY faux shiplap to the back wall and I couldn't love it more! It adds so much warmth and dimension to the space.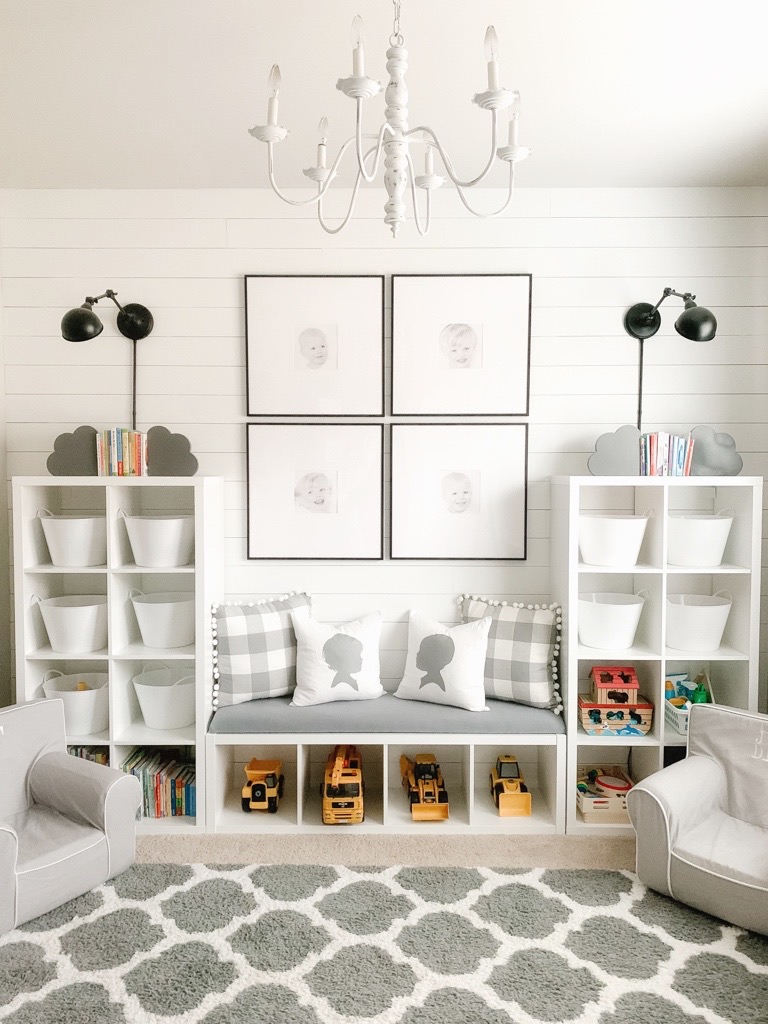 The shelves are three separate Ikea Kallax units. They are perfect for toy storage!
I made a DIY no-sew bench cushion and sewed all of the pillows to create a comfortable little reading bench.
I picked up the chandelier at one of our local antique stores for around $25. It was originally dark brown but I painted it with white Rustoleum Chalked Spray Paint for a quick and easy update.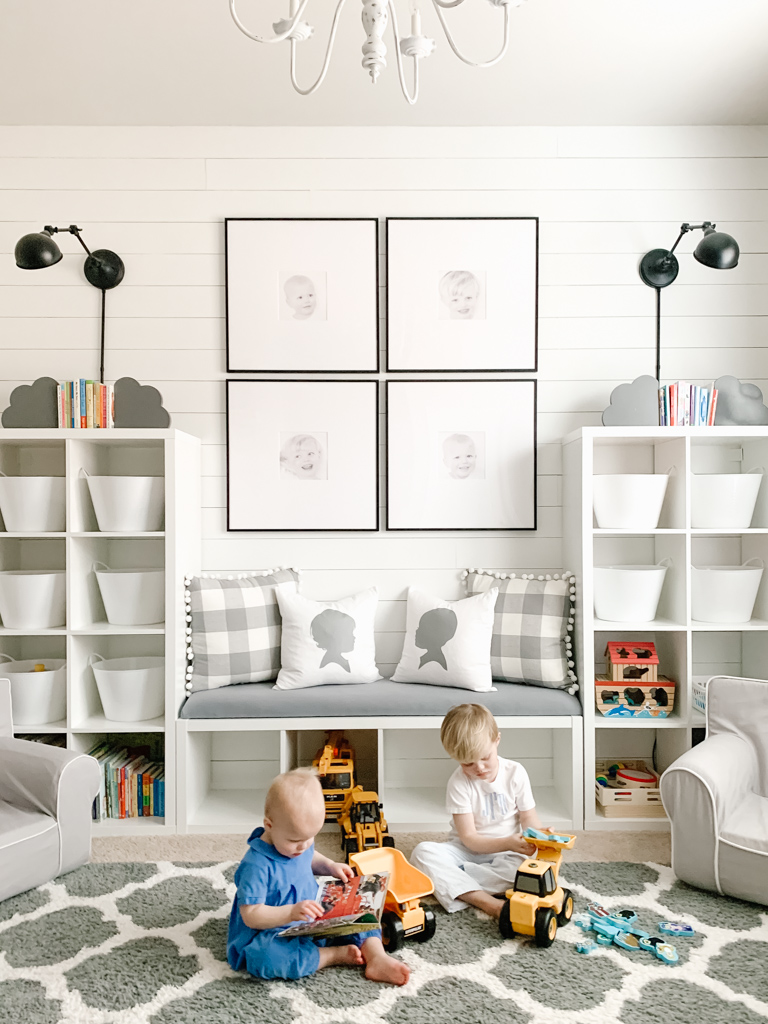 The oversized matted frames are from Frame It Easy and you can read all about them HERE.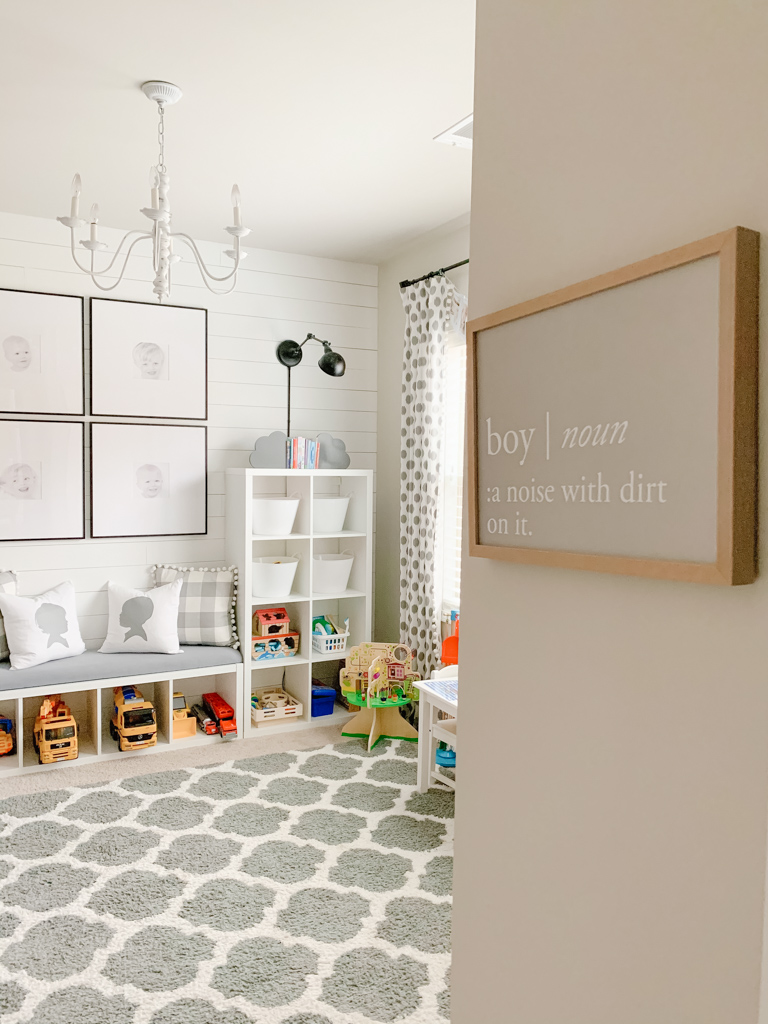 I saw this "boy" sign in Hobby Lobby one day and just knew I had to have it! 🙂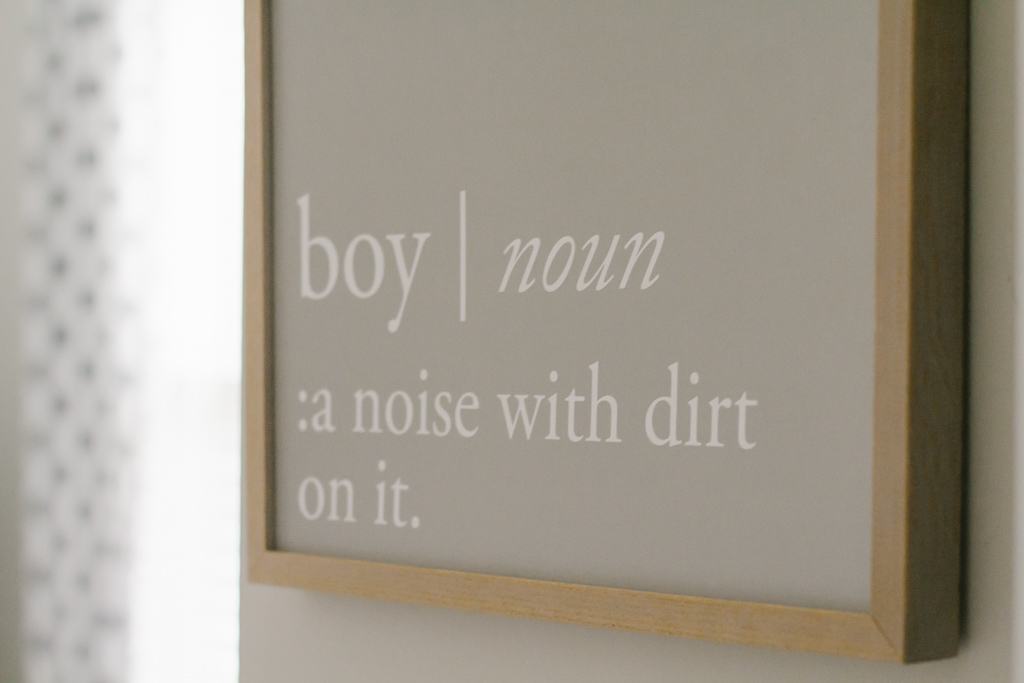 Never have truer words been spoken. But oh how those noisy, dirty little boys are sweeter and more loving than I could have ever imagined. There is something so special between a Mama and her sons.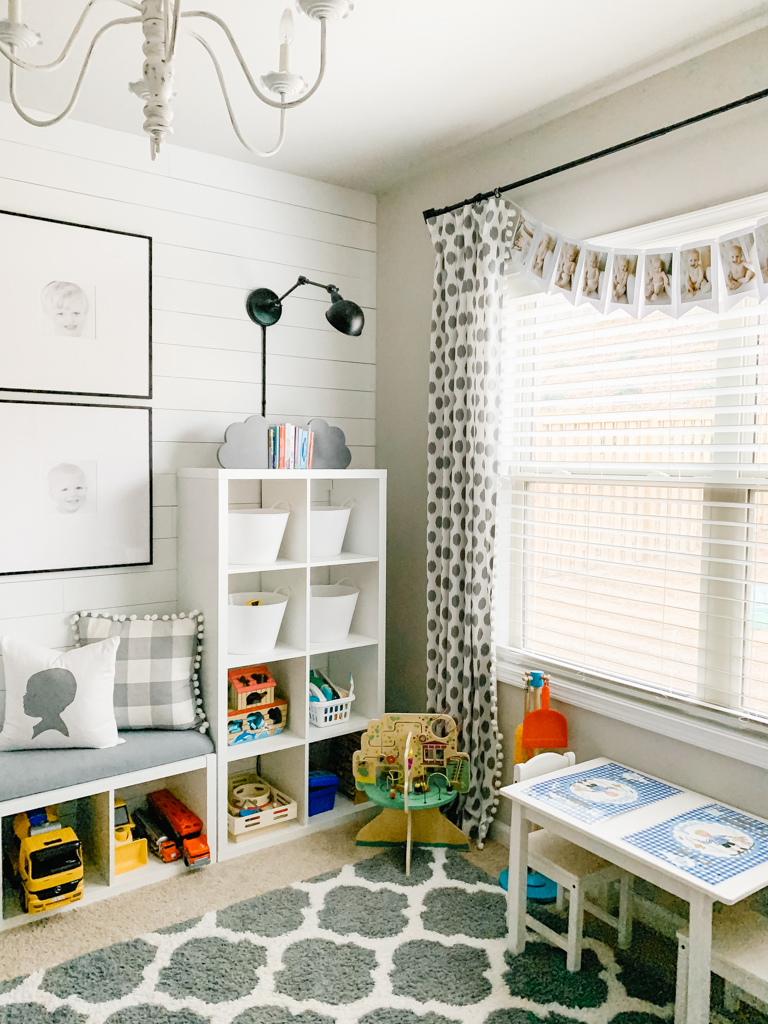 Mother made the curtains for me using gray and white printed duck cloth from Hobby Lobby. I added the pom pom trim to the edge to give them a playful touch!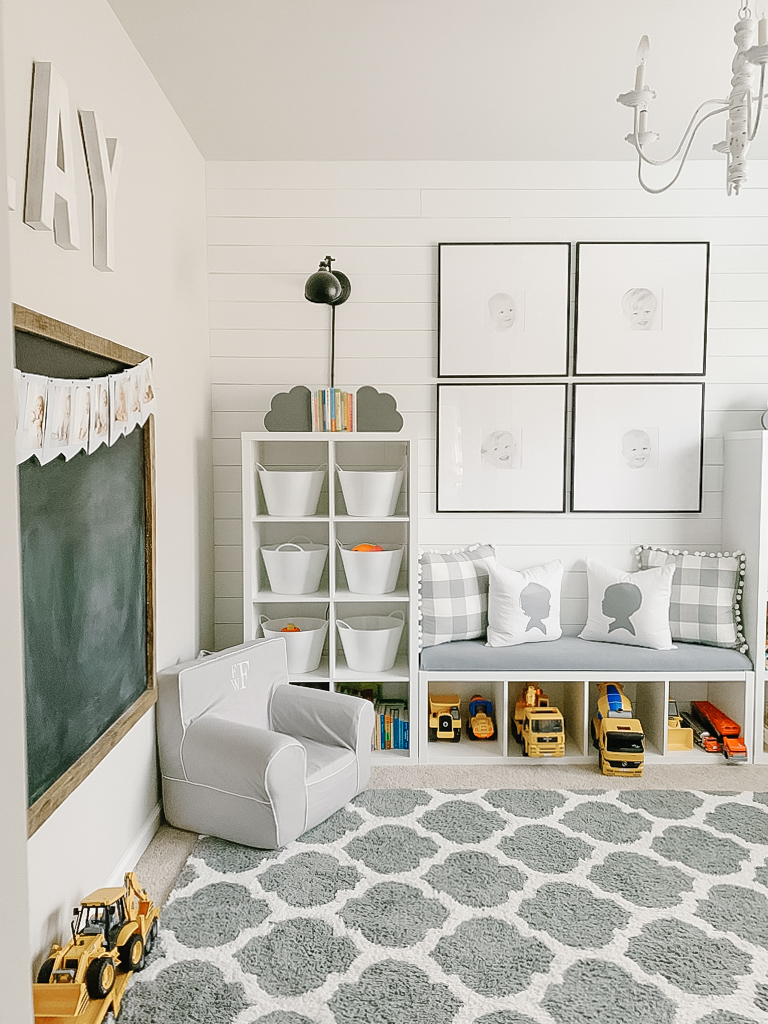 John Davis and Fletcher both got an Anywhere Chair for their first Christmas, and I have to say that these chairs have been used more than any gift they have ever received. They loved them when they were 9 months old, and they still use them just as much today! And even Mama has been known to sit in them too : )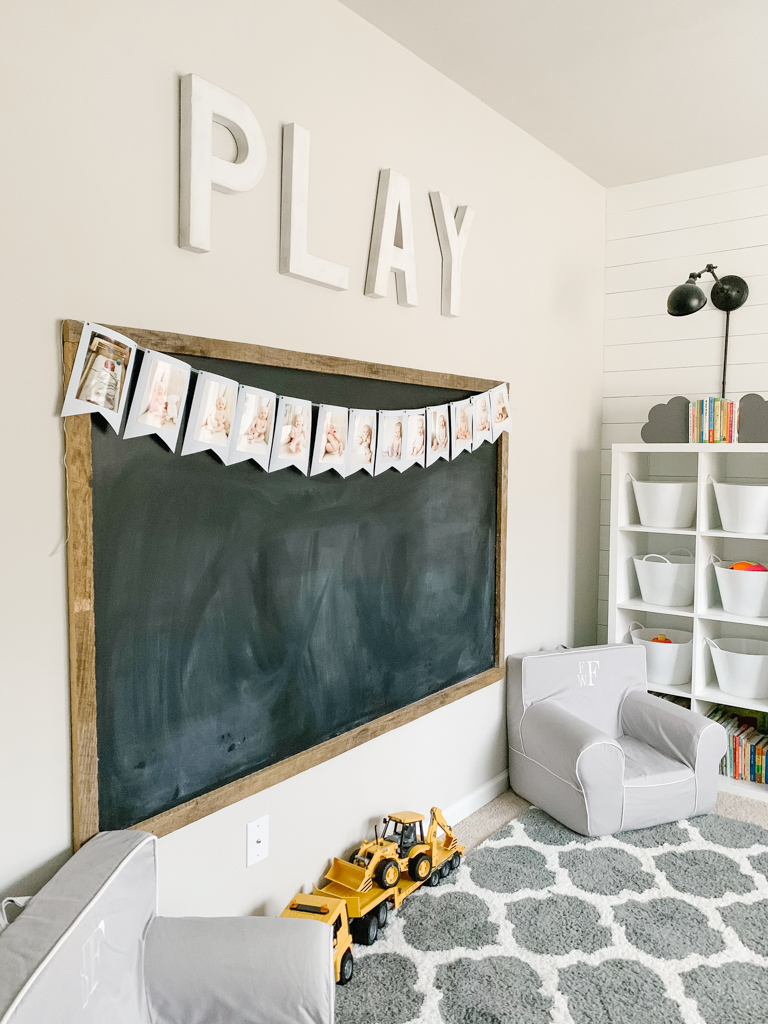 The "PLAY" letters are made from inexpensive paper mâché letters from Hobby Lobby. I painted them with white craft paint and very lightly distressed the edges. Use THESE for the easiest, damage-free hanging!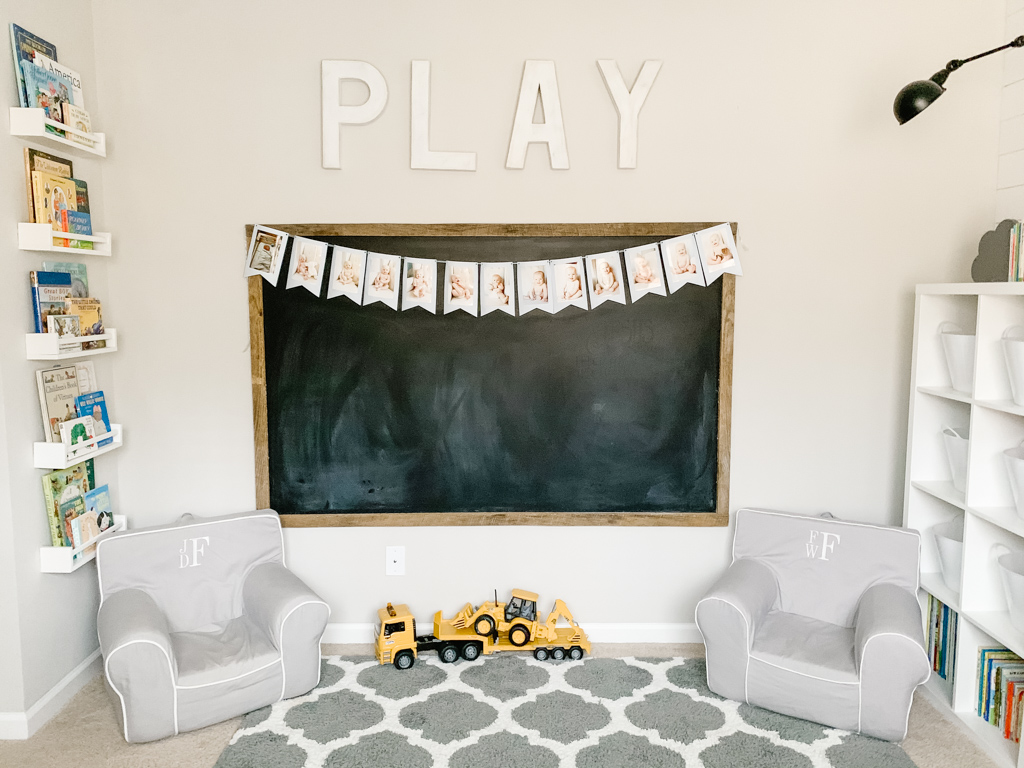 The large chalkboard was another DIY project. We had actually made this to use as a backdrop for a shower that we hosted years ago. We hung onto it after that and used it at many more parties and showers, and after we moved into this house I knew it would be perfect in the playroom. The boys loved it and I hung it low so they could draw on it 🙂
The chalkboard is so easy to make! We painted a thin sheet of plywood with chalkboard paint and then trimmed the edge with rustic wood.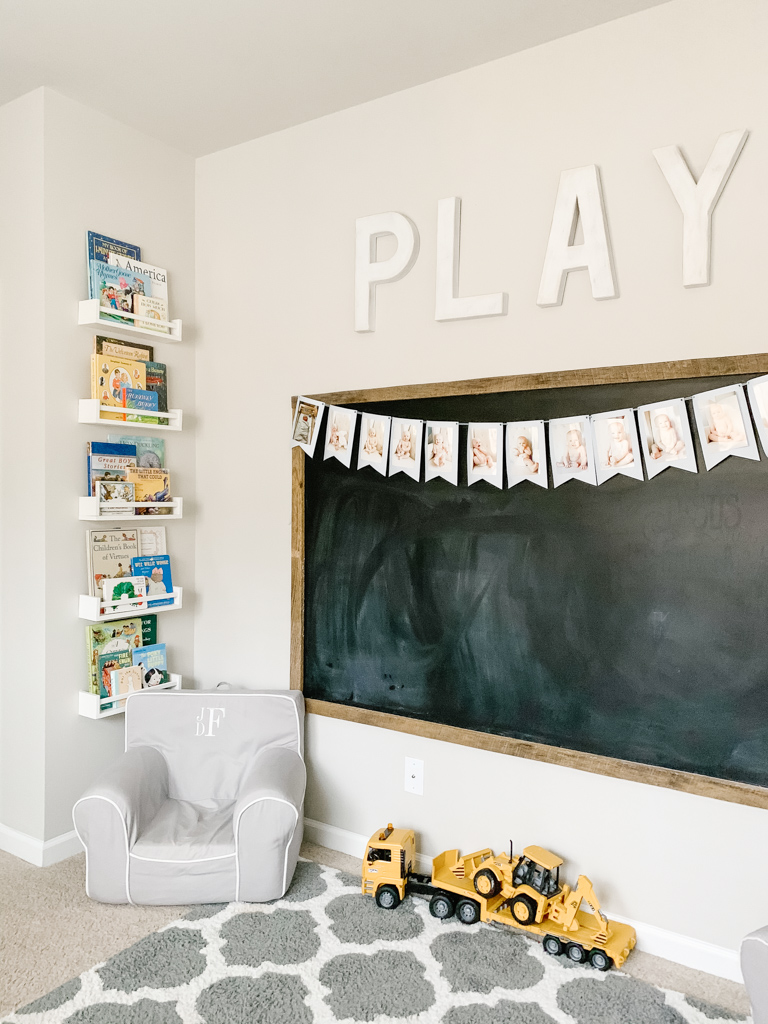 The picture banner is from John Davis's Peter Rabbit themed first birthday party. Fletcher also had one hanging on the other side of the room from his blue and white themed first birthday party. I loved the banners so much that I just couldn't put them away! I loved having their monthly baby pictures displayed in here.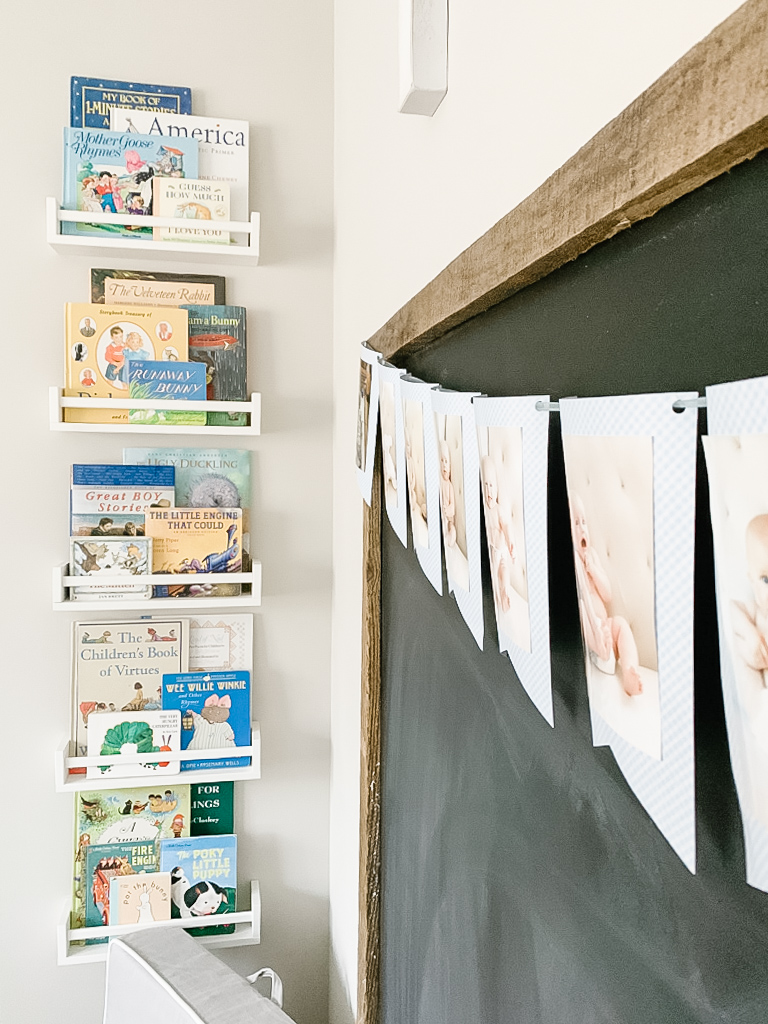 I painted inexpensive Ikea spice racks and used them as book ledges. They fit in this little nook perfectly!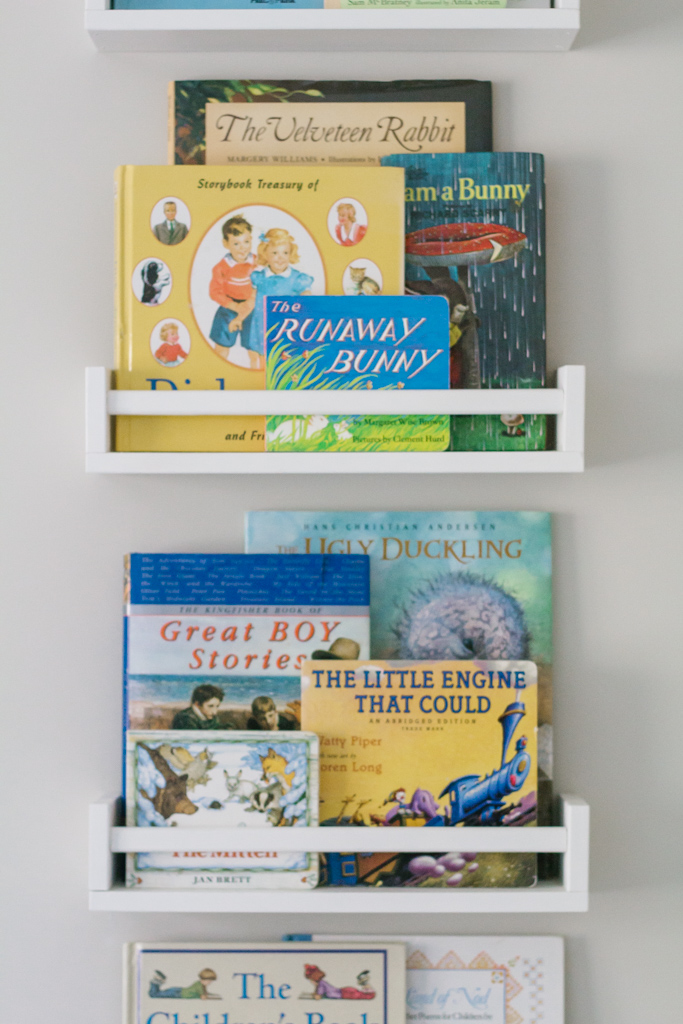 I love displaying classic children's books.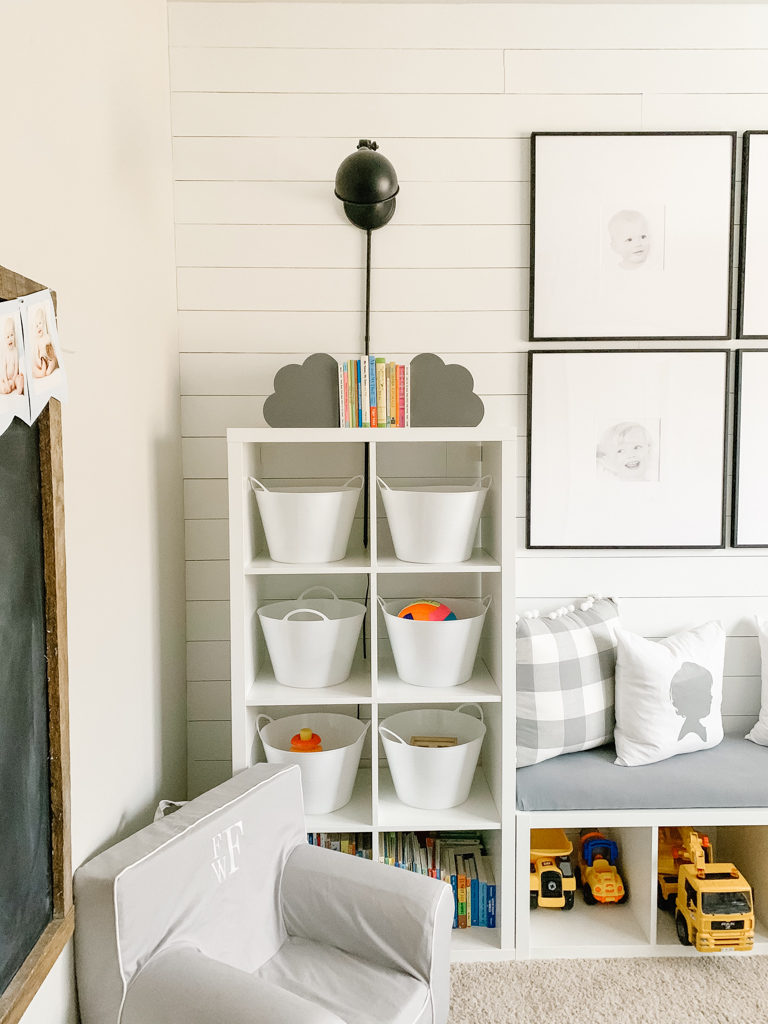 The black wall sconces were from Lowe's and were originally oil rubbed bronze. I painted them with black spray paint to match all of the black accents in the room.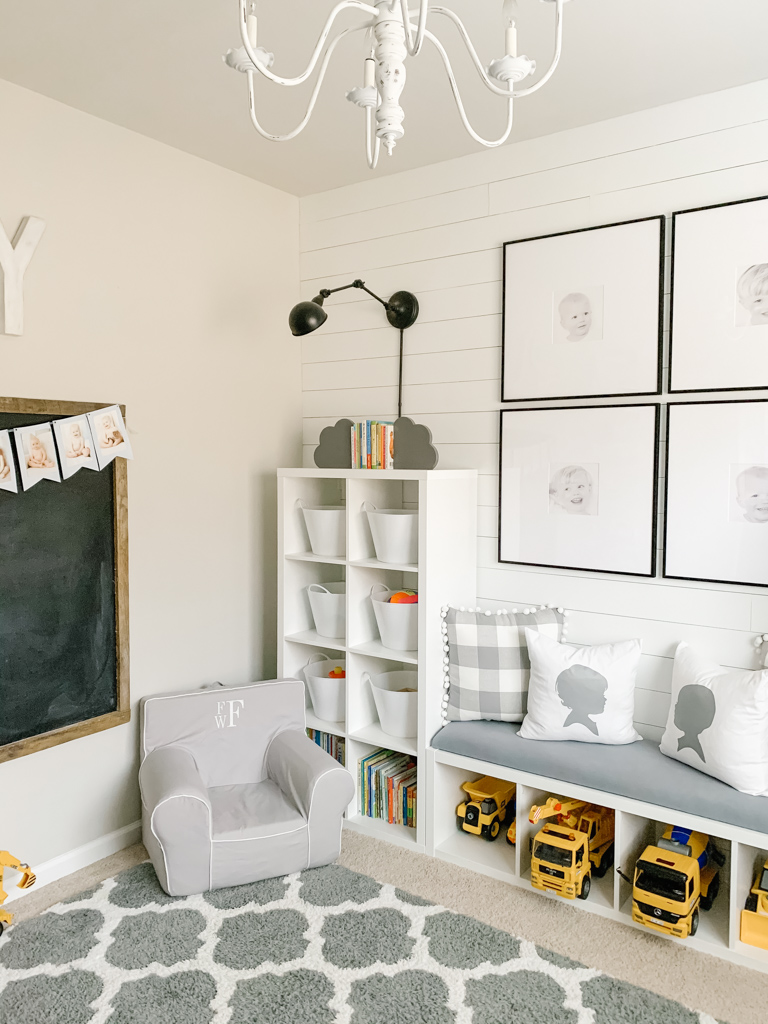 These cute scallop edge bookends are actually not bookends at all!
I was in the thrift store one day when I spotted four matching corner shelves. They were originally yellow, but I painted them gray and turned them on their sides to make "bookends!"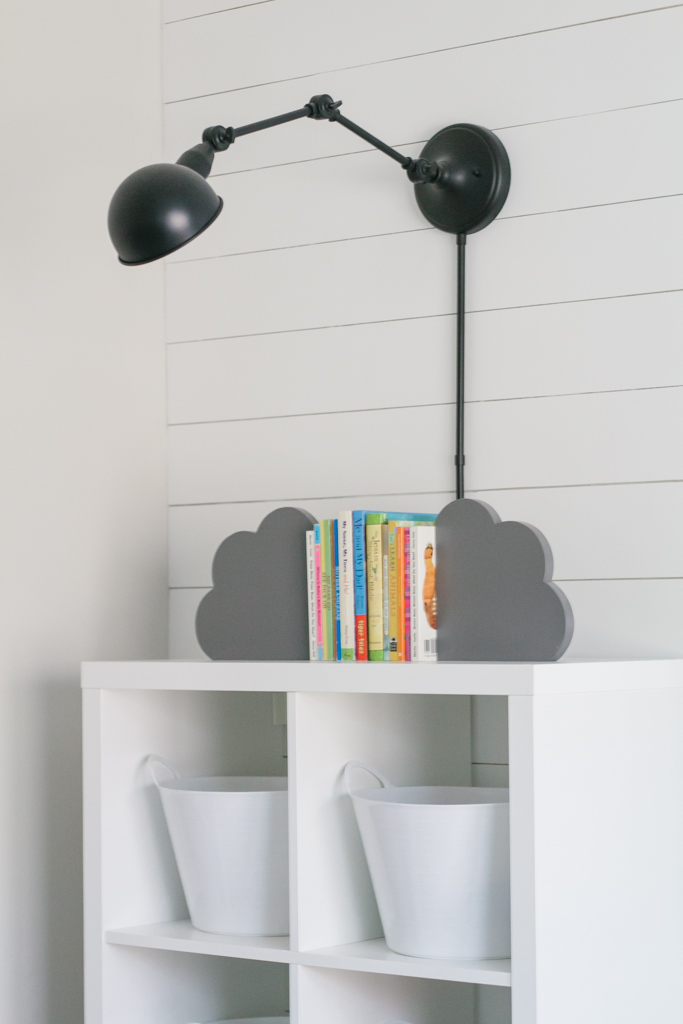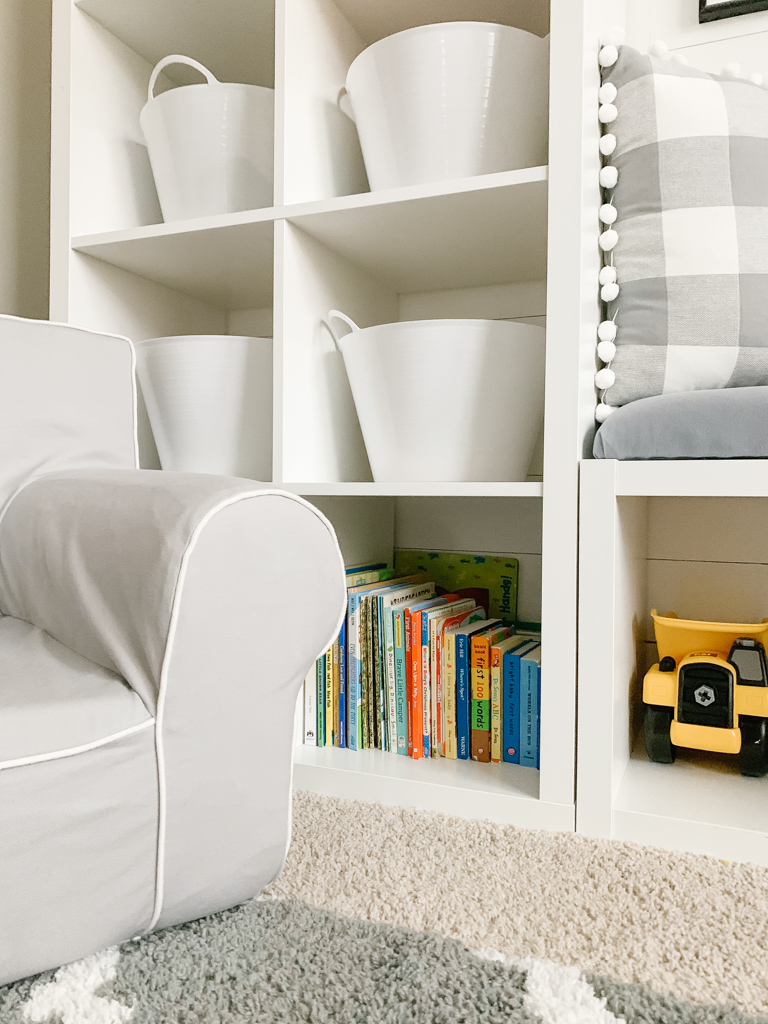 The white plastic bins that hold toys are from the Dollar Tree.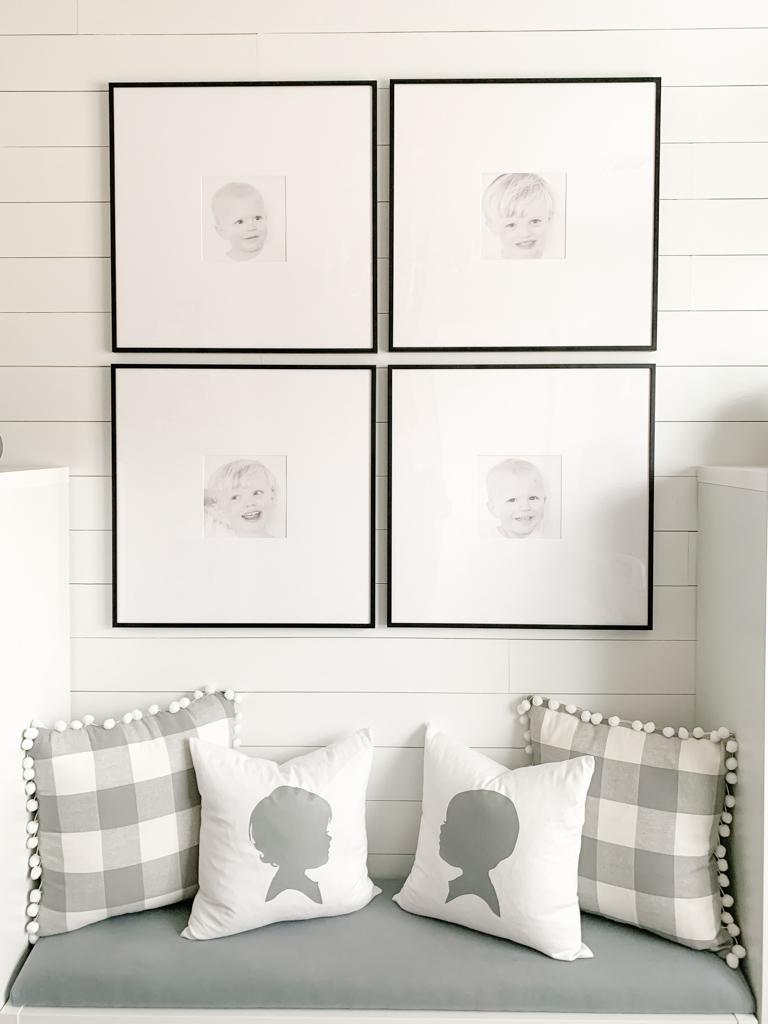 I printed out black and white photos of the boys faces and loved having them front and center on the wall 🙂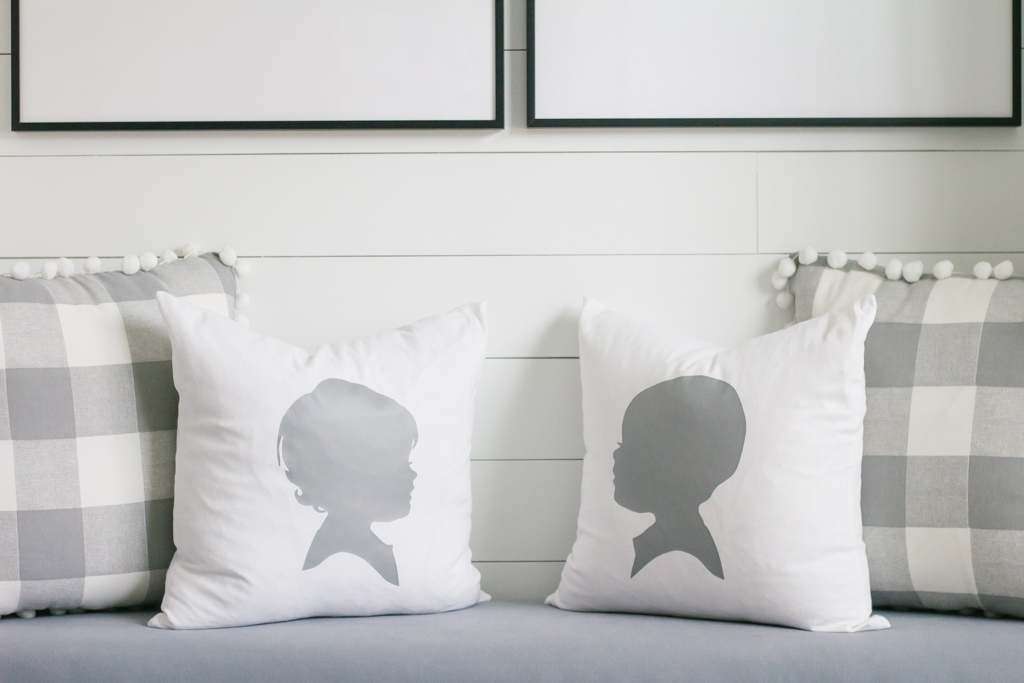 I also made their custom silhouette pillows! I simply traced and cut out their silhouettes on gray vinyl. Then I ironed it onto blank white pillow cases. (See their custom painted silhouette pumpkins HERE).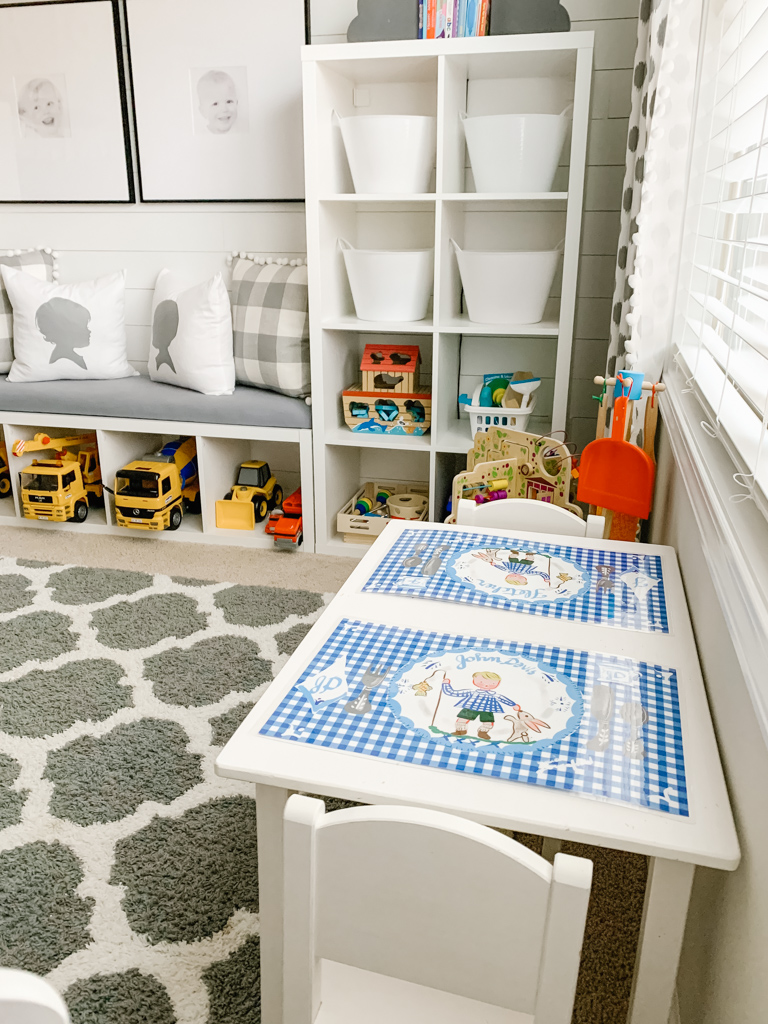 Their white table and chairs are both from Ikea. They are inexpensive and have held up great!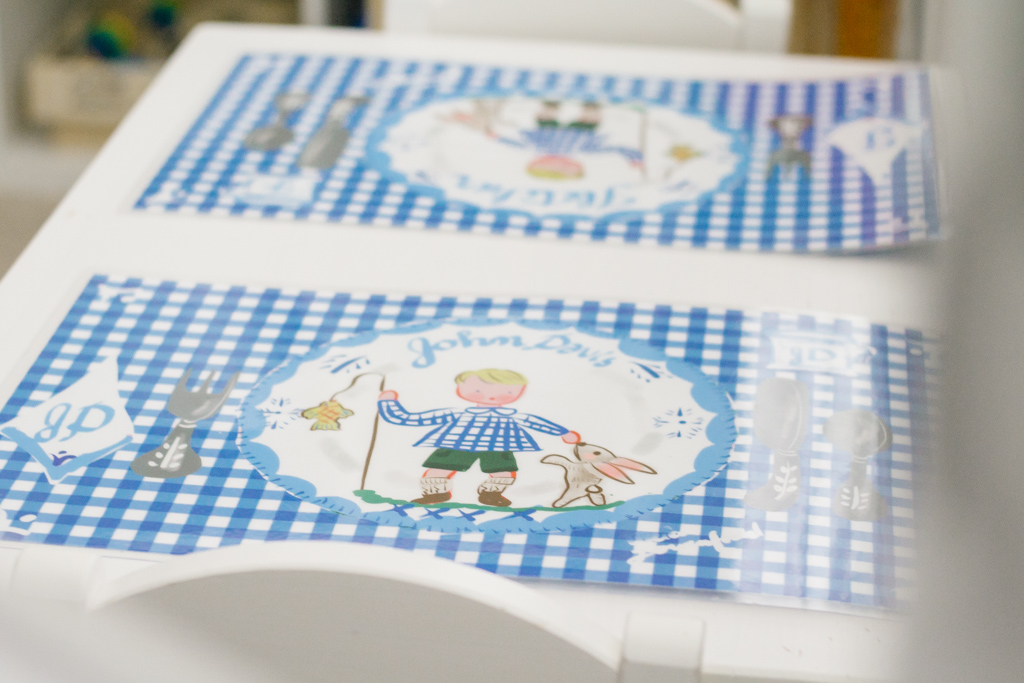 Santa brought the boys these custom placemats for Christmas and I could not love them more!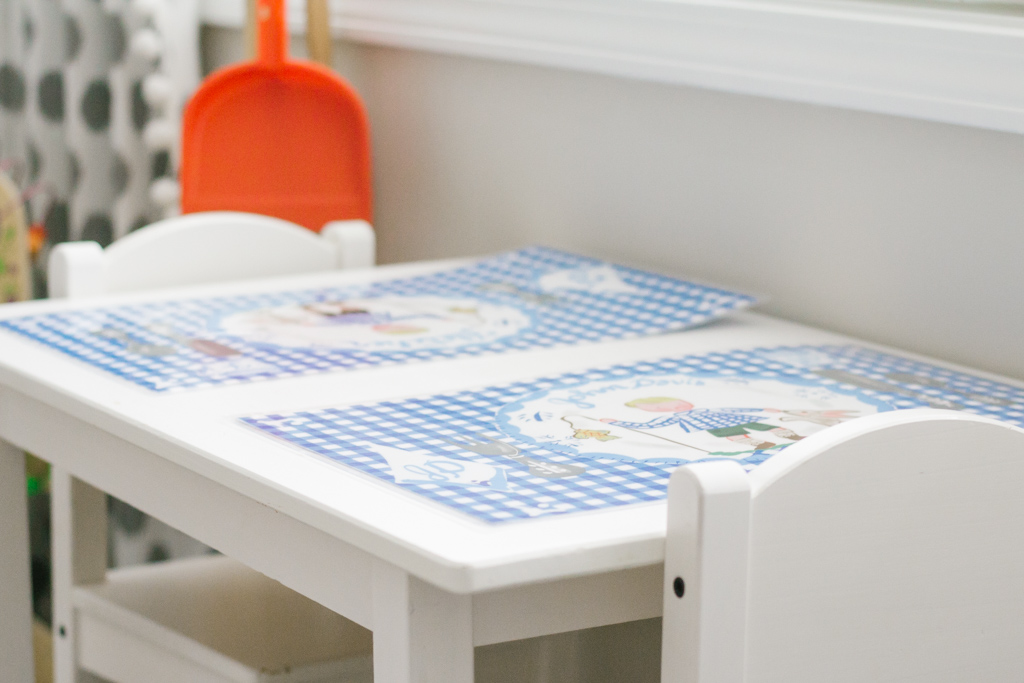 I also can't get enough of their miniature Dyson vacuum and toy cleaning set.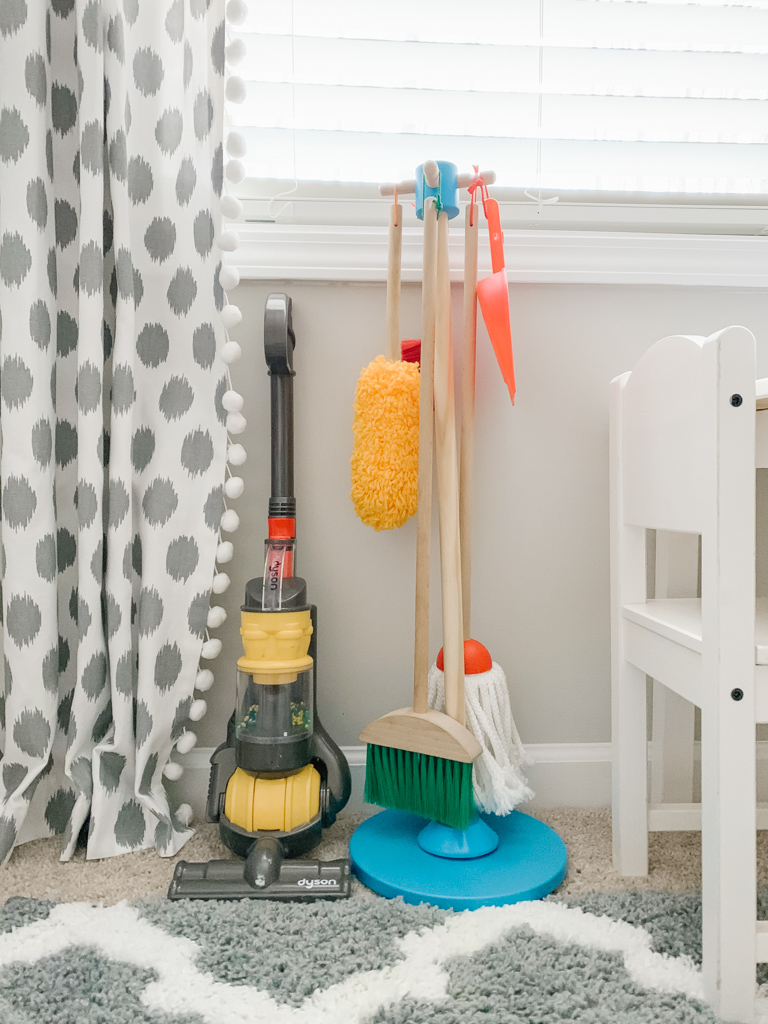 If only that Dyson really vacuumed then we would be in business! Dyson – there is a great business idea for you 😉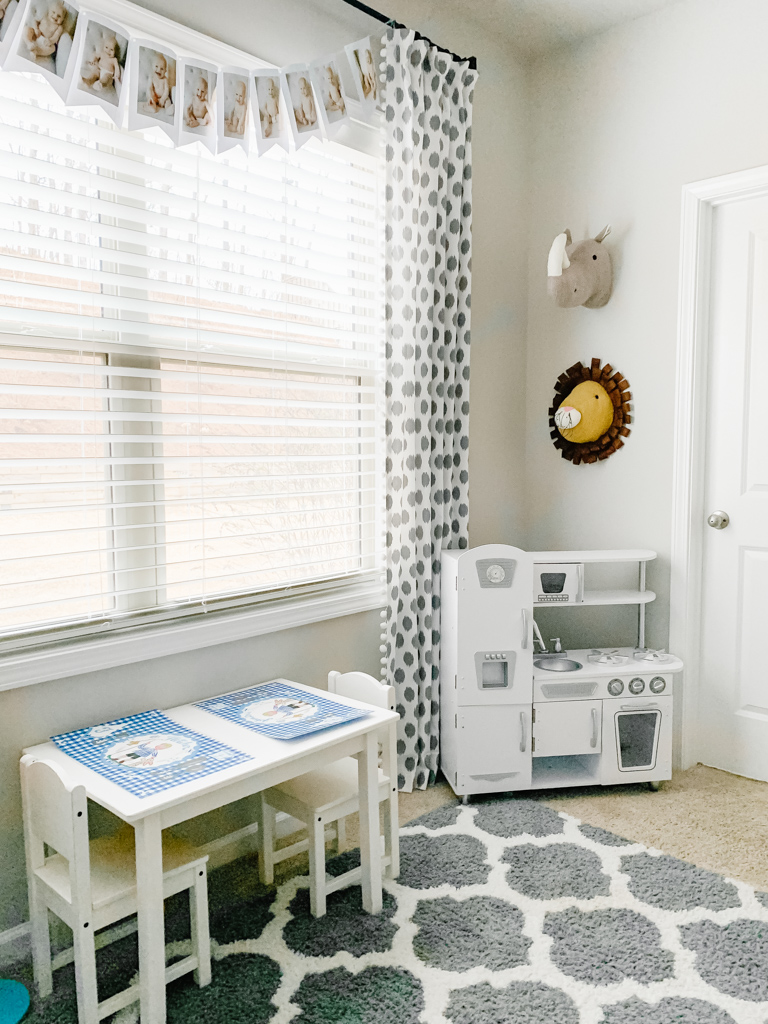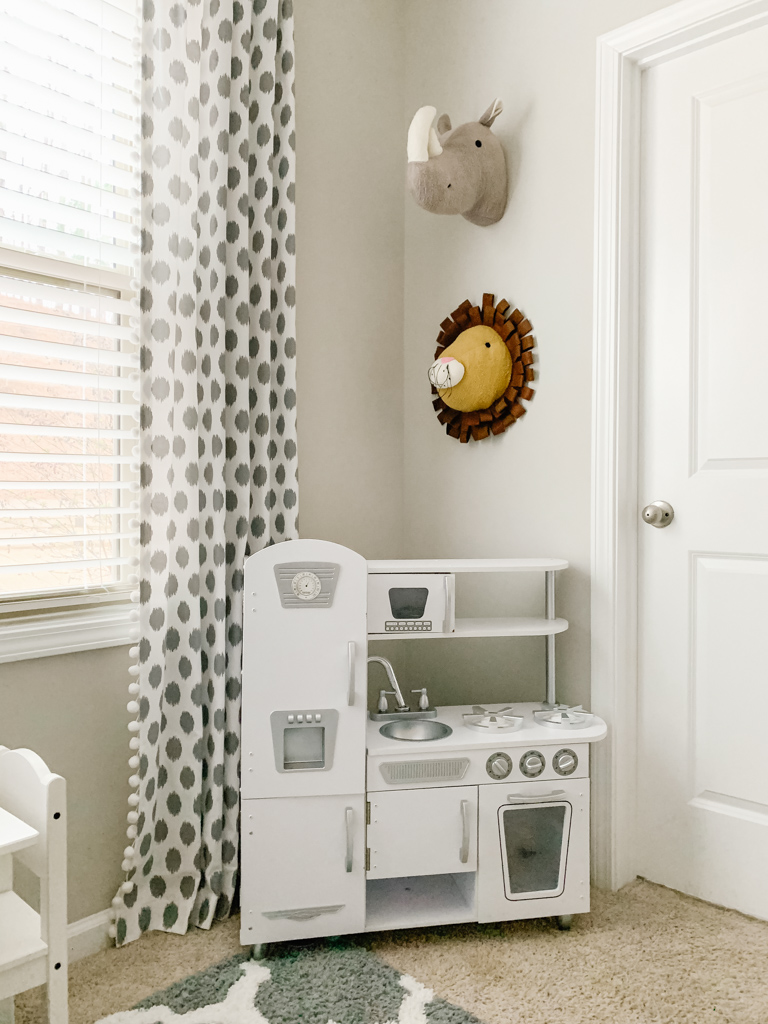 The white play kitchen was another thrift store find 🙂 and the boys love cooking up meals in here!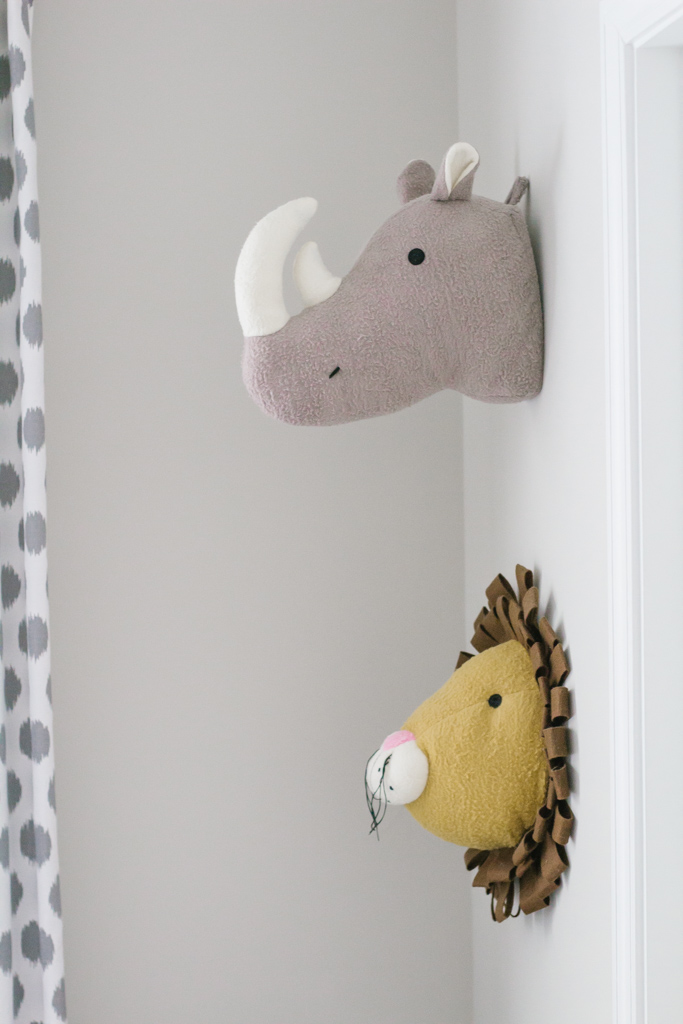 Another one of my favorite things in here are the felt animal heads hanging on the wall!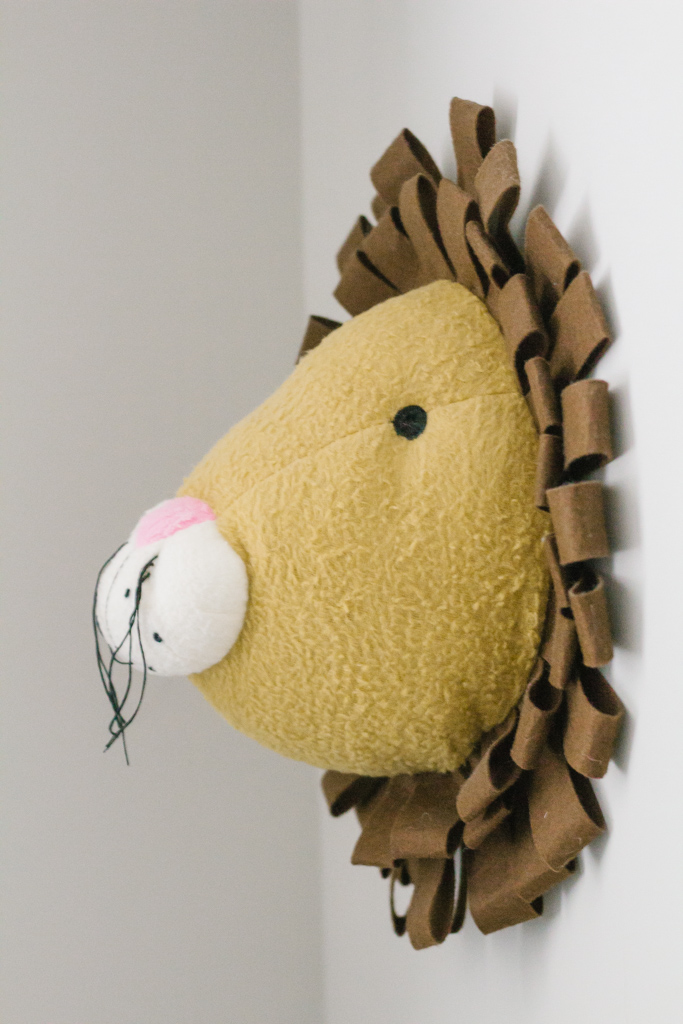 These are from Hobby Lobby four years ago but I have linked some that are very similar.
Playroom Organization: Toy Closet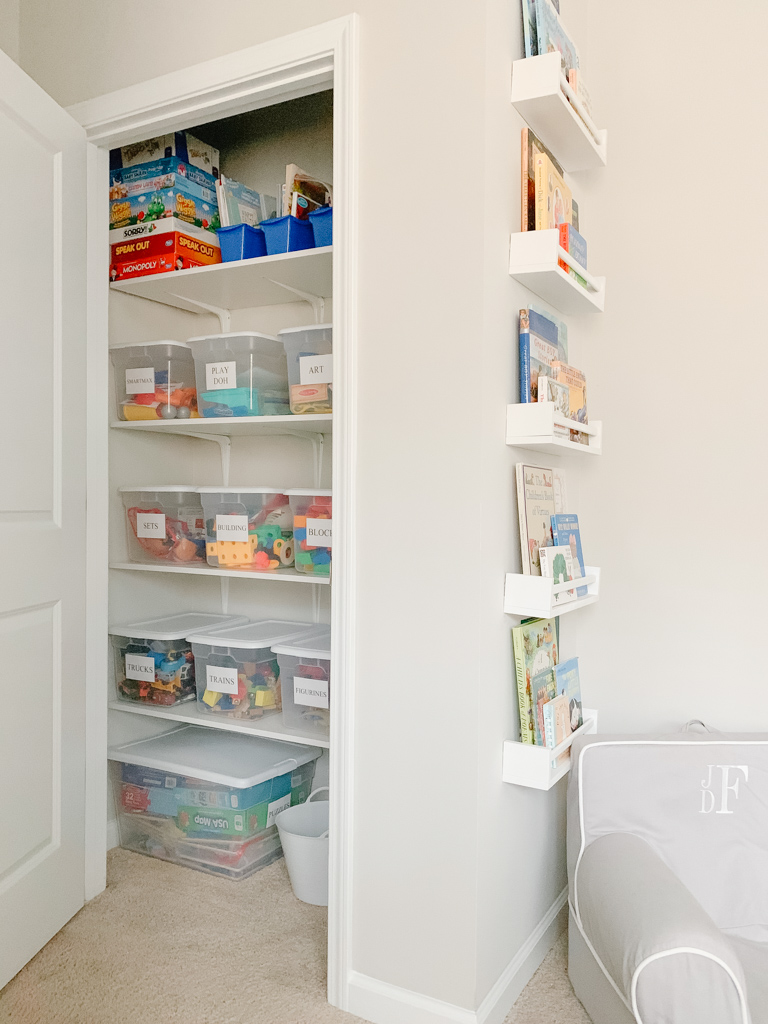 Our organized toy closet saved my sanity! 😉
This closet originally had one wire shelf at the top. I took that out and added four inexpensive white shelves. Then all the toys, games, art, etc went into plastic bins and I labeled them using THESE.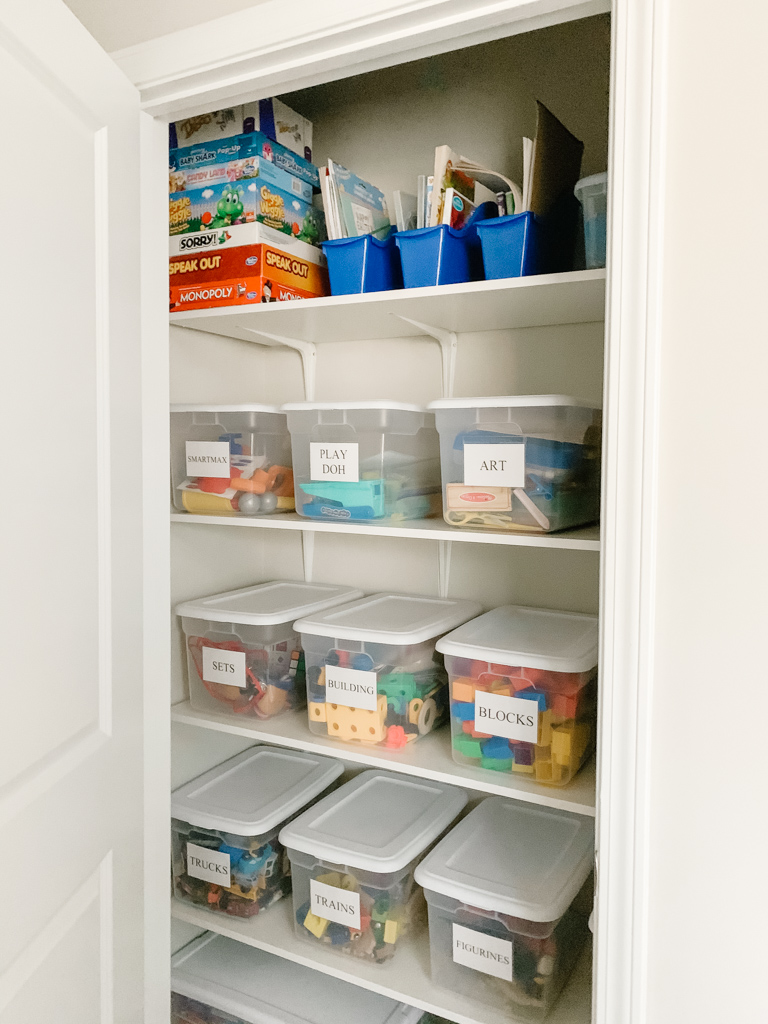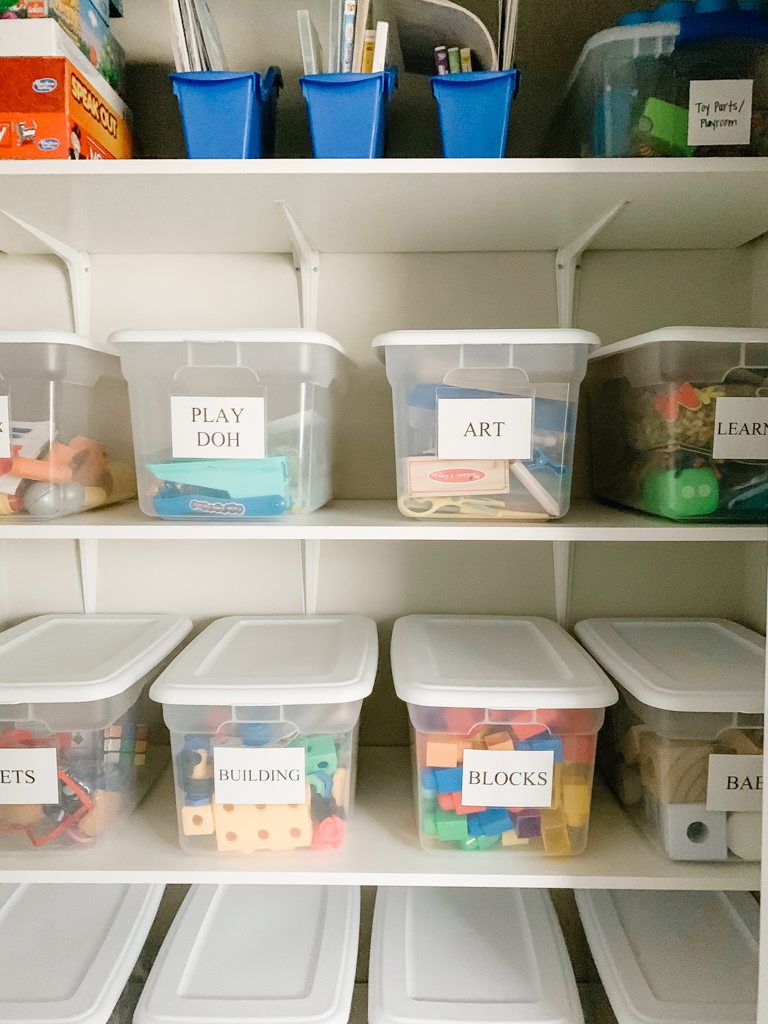 The playroom had an attached bathroom where Mother continued the gray and white curtains and made me a custom roman shade 🙂
We also also updated the builder-grade mirror by DIYing a custom frame around it and painting it white.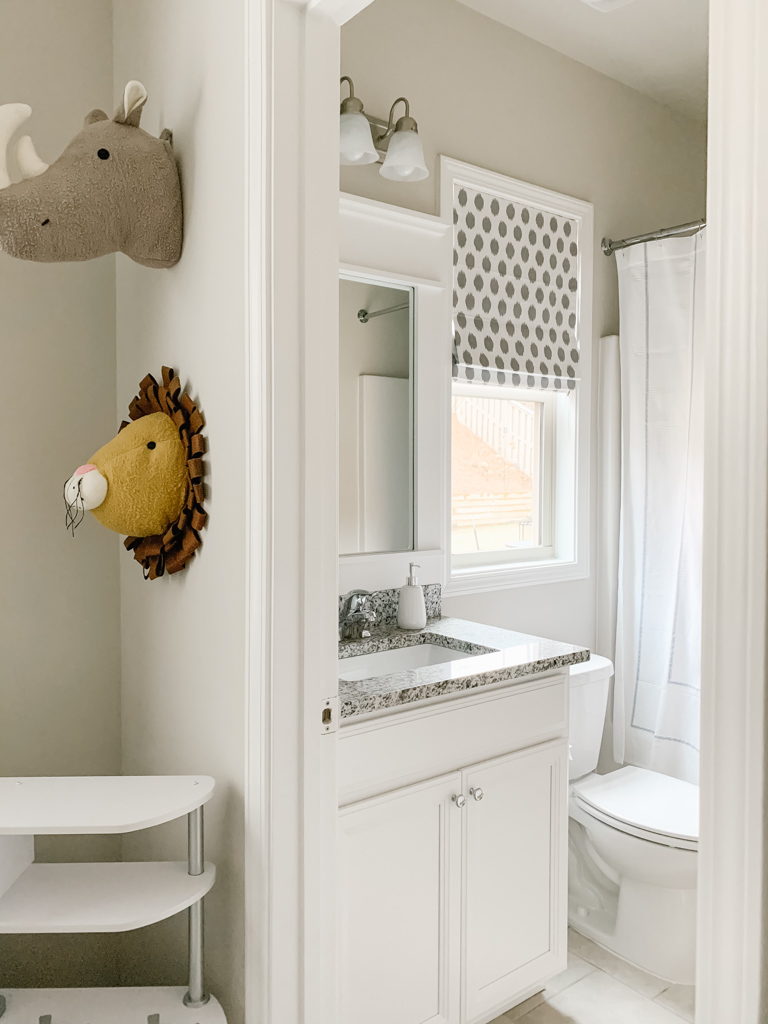 Another favorite of ours (and something we use every day to wash hands and brush teeth!) are these name puzzle stools. They are so practical, the boys love them, and I'm convinced this is how John Davis learned to spell his name!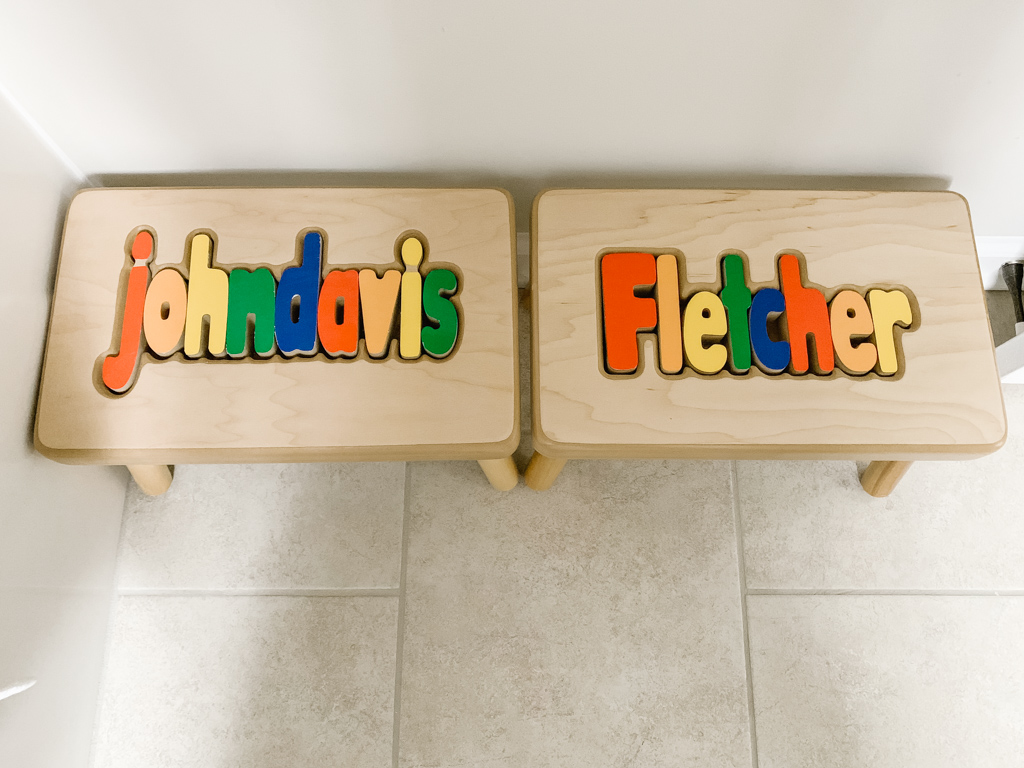 Jesus said, "Let the little children come to me, and do not hinder them, for the kingdom of heaven belongs to such as these." Matthew 19:4

Easily Shop the Playroom Look Here: